If you would like to be up for Fan (or Fans) of the Month... please e-mail me. And if you have a picture send that too! I will NOT be doing any more Fan(s) of the Month... after the May Fan or Fans... until the new season kicks in, but you can still e-mail me if you want to be October's FOTM!!
My e-mail address is located in the section CONTACT.

click here to go to CONTACT

PLAYERS of the YEAR!!!!!!!!!!!!
Every player this year deserves the honor of this award. So, this award goes to:
Eric Lind, Judd Stauss, Eric Van Acker, Roger Trudeau, Simon Tremblay, Damon Whitten, Jonathan Roy, Sean Venedam, Jay Langager, Steve Rymsha, Zdenek Blatny, Colin Pepperall, David Bell, Luke Sellars, Ryan Stewart, Martin Masa, David Kaczowka, Simon Gamache, Tyrone Garner, Jeff Dessner, Jayme Platt, and Chad Nelson. Also, I would like to add the following to this list: Bill McLaughlin, John Marks, Nick Vitucci, Chris Young, Charlie Dallas, every Grrrowl FAN out there, and all of the Bi-Lo Center staff who had something to do with the Greenville Grrrowl. Everybody who I have named deserves that
Kelly Cup. GO GRRROWL!!!!!!!!!!!!!!!!!!!!

April FANS OF THE MONTH!
CONGRAT's to... Lynley Loftin, Terri Smith, and Brent Smith!!

Lynley, Terri, and Brent ARE THE FANS OF THE MONTH FOR April!!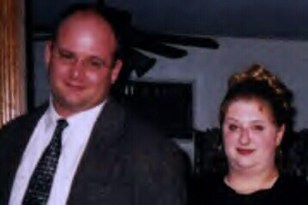 *From right to left... Lynley, Brent, and Terri*
Courtesy of Terri's website (so it means... DON'T steal...)! Thanks Terri!
Terri's Page!

Lynley, Terri, and Brent are the FANS OF THE MONTH! Way to go! These three people rank high as being one of the best groups of Grrrowl fans in the Bi-Lo Center. They are known as the "Poster People." They bring posters to every game that they come to and sit in Section 100 so that the team can see them during the 2nd period. Not only does the Grrrowl team love it, but this little group of Grrrowl fans love it too! They are always cheering, screaming, hooting, hollering... need I go on? :) And, this is extremely good considering that they are the Fans of the Month for April... and April has been a month of *GRRROWL PLAYOFF HOCKEY* and these people know the right recipe to keep the flavor going! Way to go you guys!
Congrat's again to Lynley, Terri, and Brent for being the first group of FANS of the MONTH!